On 5 November 2008 the interior minister Dragutin Mate and the police deputy director general Matjaž Šinkovec, together with Danijel Žibret, the director of the Uniformed Police Directorate at the General Police Directorate, received seven police officers and one private citizen. They thanked them for their good work and awarded them police medals for bravery and self-sacrifice in recognition of their conspicuous personal bravery or self-sacrifice in saving people or property or carrying out security duties.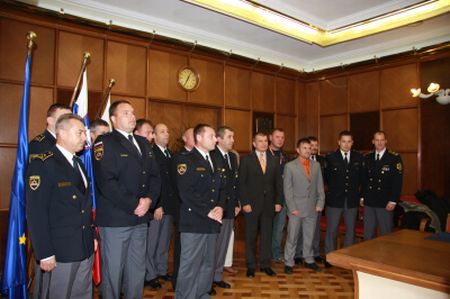 This July, the worst water disaster in Slovenia's history occurred at the site of the Blanca hydroelectric plant. Many courageous people took part in the rescue operation, among them several police officers, who received the thanks of the President of the Republic Dr Danilo Türk for their efforts. Three of them today received police medals for displaying conspicuous personal bravery at the risk of their own lives and safety during the rescue operation. A medal for bravery was awarded to officer Gregor Kovač of the Ljubljana Police Directorate and medals for self-sacrifice were awarded to officers Rade Ivkovič and Dušan Černe of the Krško Police Directorate.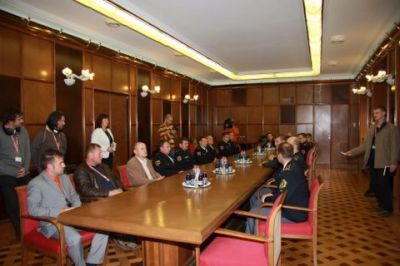 Police medals for bravery were also received by officer Damjan Herodež of the Celje Police Directorate and by Igor Lipovšek of Žalec, a private citizen, who on 8 July this year rescued a drowning man from the swollen Savinja, dragging him onto the river bank, at the risk of their own lives. They were assisted by officer Igor Orešnik of the Celje Police Directorate, who was awarded the medal for self-sacrifice.
Medals for self-sacrifice were also awarded to officers Marko Mulej and Blaž Svetlin of the Kranj Police Directorate, whose selfless conduct saved human life. On 7 July an accident occurred on the road between Bled and Bohinj, in which a citizen was thrown from a vehicle into a stream. Arriving at the scene of the accident, the two officers immediately jumped to his aid and rescued the victim from the water: although his injuries were not serious, he was unconscious and could have drowned.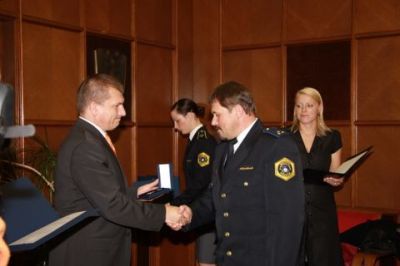 A serious accident on the motorway between Ljubljana and Šentjakob on 4 July saw three vehicles catch fire. A citizen who was driving past quickly grasped the situation and bravely rescued from the flames a driver trapped in his vehicle, thus saving his life. Dušan Dejak of Ribnica was awarded the police medal for bravery for his actions.