On 14 and 15 May 2009, two representatives of the Slovenian police participated in the conference organised by the Croatian police in Opatija with the purpose of gathering police leadership from several countries before the beginning of the summer tourist season.
In addition to the Slovenian delegation ? consisting of the Head of the International Relations Division Vladimir Pocek and Police Attaché to Croatia Jože Sironič ? the conference was also attended by representatives from nine countries (Austria, Bosnia and Herzegovina, Czech Republic, Montenegro, France, Hungary, Slovakia, Serbia, Germany) whose citzens most often spend their summer holidays in Croatia, and by representatives from Interpol.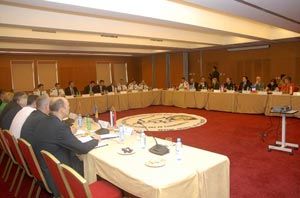 At the conference, the participants were acquainted with the security situation in Croatia during the last tourist season and with the preparations for this year's tourist season concerning road traffic safety, crime and border police. The representatives from Austria, Czech Republic, Hungary, Germany and Slovakia then signed an agreement on cooperation, on the basis of which police officers of the mentioned countries will carry out certain tasks together with Croatian police officers during this year's summer tourist season. In their national uniforms, but without arms, they will together with their Croatian colleagues facilitate communication with tourists from their countries. Slovenia has not signed the memorandum since its police cooperation with Croatia is adequately regulated on the basis of international law.
On this occasion, Croatian police chief, Vladimir Faber, thanked all, also the Slovenian police, for good cooperation up to now.