The specialist training of police trainers for work in international civilian missions concluded on 21 October 2011 in Gotenica Training Centre with the award of certificates.
The police officers were awarded certificates by Deputy Director General of the Police Matjaž Šinkovec and training leader Aleš Grudnik on successfully completing the training course. This was followed by the award of certificates of appreciation to foreign instructors and training leaders for their involvement.

In his welcome address, Deputy Director General Matjaž Šinkovec commended the work and efforts of the organisers of the training course and instructors. He expressed his conviction that the topics addressed and experience gained will help the participants in their further work, both in transferring knowledge to their "pupils" and in their own deployment.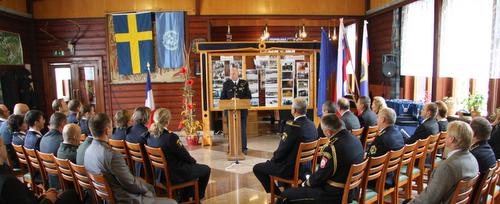 Early this year, the Slovenian Police was awarded a certificate by the United Nations Organisation, representing the first internationally certified training programme of the Slovenian Police - this has only been awarded to a select few UN member states.
In this context, a decision was adopted this year to organise a training course for instructors (United Nations Police Officers Course Training of the Trainers ? UNPOC TOT), based on the UN programme and instructions, which was offered to the police force representatives of the former Yugoslav states. The training course was aimed at strengthening mutual cooperation and regional ties in this area. The Slovenian Police have carried out these training courses before, but not on such a scale or with the representatives of foreign police forces. This was also the first training course of its kind to include the police forces from the territory of the former Yugoslavia.
The training course for police trainers who are to prepare police officers for work in international civilian missions in their respective countries was organised and carried out by the Slovenian Police - more specifically the International Police Operations Division at the Service of Director General of the Police and the Police Academy - under the aegis of the French Republic and in close cooperation with the Swedish Police.