On 10 May, before the start of the tourist season, the Director General of the Police, Janko Goršek, attended the now traditional conference of police chiefs in Valbandon, Croatia. The purpose of the meeting is to consolidate the cooperation between national police authorities, making sure holidaying foreign nationals can enjoy a safe stay in Croatia. Each year roughly nine million tourists stay in coastal Croatia. Of these, roughly one million are Slovenian holiday-makers.
The conference was attended by police chiefs from Austria, the Czech Republic, Hungary, Germany, Poland, Macedonia, Ukraine, Slovenia, Slovakia, Italy, and Bosnia and Herzegovina (the latter as an observing country). They were brought up to speed with the results of last-year's Safe Tourist Season Project and the measures introduced with regard tourist season specific road safety, crime and border check issues.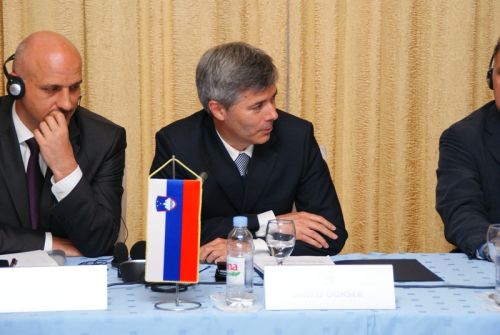 The Austrian, Czech, Hungarian, Polish, Slovenian, Serbian, Italian and Montenegrin representatives expressed their willingness to sign cooperation agreements with Croatia and second their police officers to patrol with their Croatian counterparts. Just like last year, Slovenia intends to second two officers to Croatia during the peak season.