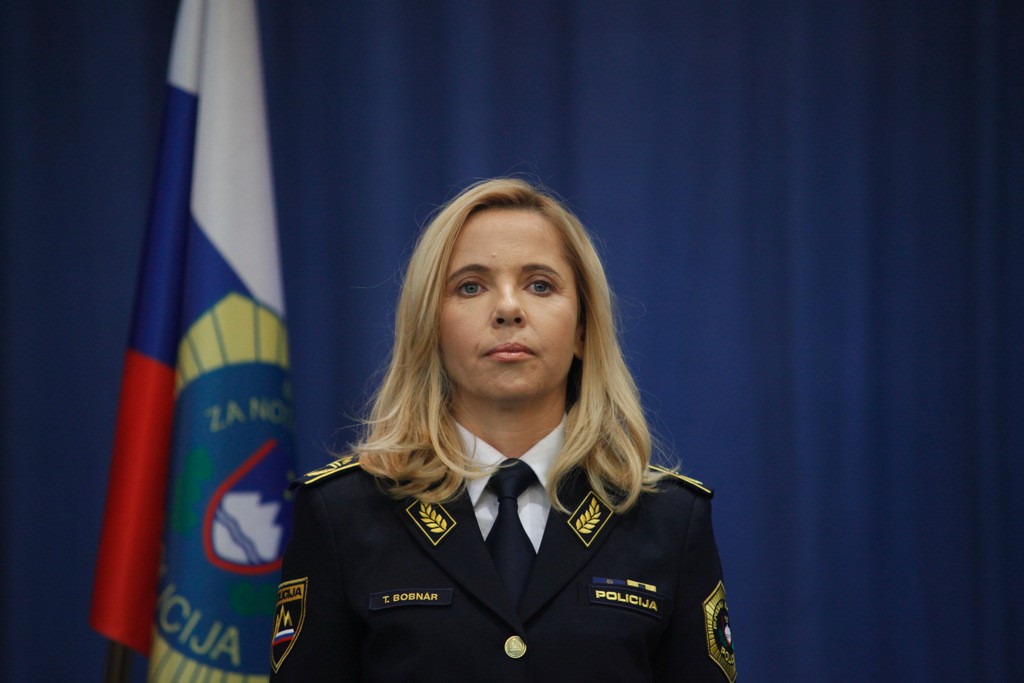 Tatjana Bobnar, LL.M., born in 1969, has been working for the Police for 25 years.
In 2007 she was appointed Assistant Director of the Criminal Police Directorate at the General Police Directorate and her main responsibilities were the participation in drawing up legal acts in the field of work of the criminal police and cooperation of the police with the state prosecutor's office.
On 19 Februar 2009 she was appointed Deputy Director General of the Police and on 5 October 2018 she assumed the role of acting Director General of the Police.
The Government of the Republic of Slovenia appointed Tatjana Bobnar, LLM, as Director General of the Police and she took office on 12 December 2018.
After completing her studies she started working for the Ljubljana Police Directorate as a general crime investigator in the Criminal Police Office. She led the Juvenile Crime Group. After years of work in the Criminal Police Office she became Head of the Operational Support Service at the Ljubljana Police Directorate and later Assistant Director of the Police Directorate. In this capacity she got to know the operation of all police units in the area of the biggest police directorate in the country.
She leads several working groups, also in the field of preventive work. Her main activities and responsibilities: Steering the work of coordinators for equal opportunities for men and women within the police and for the prevention of mobbing, coordination with governmental and nongovernmental organizations, in particular in the prevention of domestic violence, sexual violence, homophobia, supervisor of project for the elimination of conflict and mediation in police, supervisor of police work in a multicultural community, supervisor of project about police work in and with the community, management and coordination of the legal matters at the system level and changes in legislation (drafting proposals for amending Criminal Procedure Law, Penal Code, Minor Offences Act, Enforcement of criminal Sanctions Act, State Border Control Act...), leading the project "Strengthening ethics and integrity within the police", leading the project "Providing psychological support within the police", leading the working group for administrative burdens elimination.
She led the interdepartmental working group on the establishment of the National Bureau of Investigation, the project established for preparation of the new police legislation (drafting law on police organization and work and law on police duties and powers). She took part in the interdepartmental working group for drafting the new Criminal Procedure Law, lectured at seminars for judges, prosecutors and criminal investigators on new criminal law.
She is lecturer of criminal procedural law at the Police College in Police Academy, Head of Programme Council Police Academy.
She completed her Master's degree in criminal law with distinction at the Ljubljana Faculty of Law and presented her papers at numerous courses, symposiums, seminars and international conferences.