Based on the agreement between the Slovenian ministries of foreign and internal affairs, two Kosovo police officers participated in a three-month training course in Slovenia. From 5 March to 6 June, Zekri Bajrami and Fejsall Muslliu were being trained to work with service dogs for detecting illegal drugs at the Service Dogs Training Section of the Police Academy.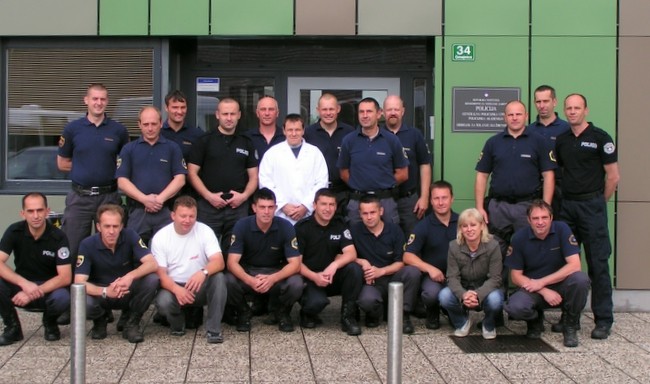 Bajrami and Muslliu are service dog trainers for special tasks and at the same time service dog handlers. As they told us, the reason for participating in training in Slovenia was to broaden their knowledge and gain new experience, which they intended to transfer to their colleagues. They both pointed out that Kosovo service dog handlers faced various problems in the field. "It happens sometimes at work that a dog no longer wants to work because it is not motivated or is afraid. We have been somehow unable to solve these problems. This is why we came to Slovenia, to learn how to choose a suitable dog to perform police tasks and train it well so that it is can be efficient in the field." said Fejsall Muslliu, who has been a police officer since 2000 while since 2002 he has worked with service dogs.
During the three months they spent in Slovenia, the Kosovo officers became familiar both with training methods and with the use of service dogs in the field. They participated, on several occasions, in joint exercises, where they were able to observe the role of service dog handlers in detecting illegal drugs and explosives. During this period of time, each of them also trained "his own dog"; Bajrami trained Abba, a female Belgian Sheepdog, and Fejsall a Springer Spaniel named Brko.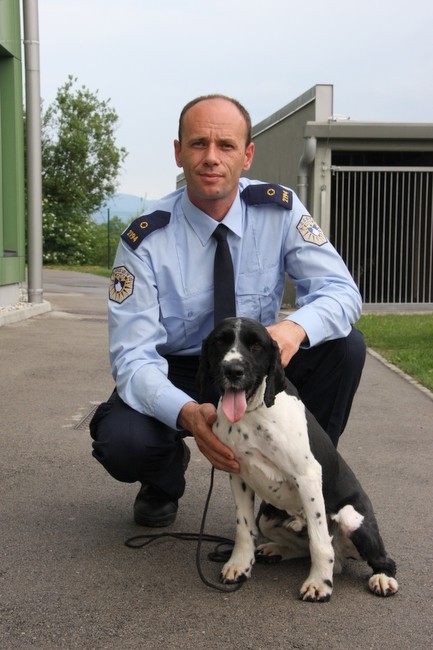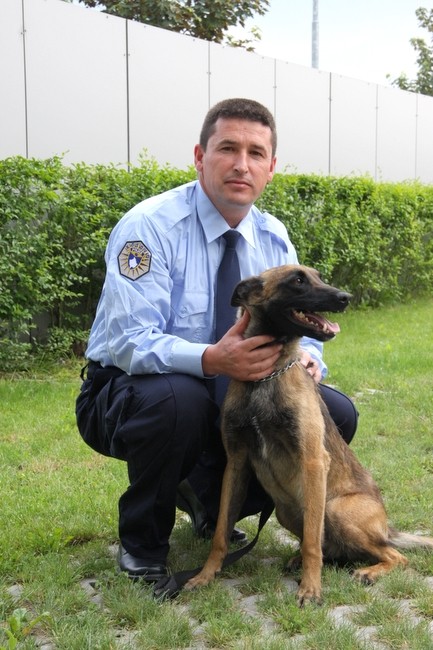 Fejsall Muslliu and Zekri Bajrami

Training took place all over Slovenia; they practiced at the Ljubljana Jože Pučnik Airport, the port of Koper, at a railway station, at border crossings, in various warehouses and facilities, at Dob prisons and in the premises of the Police Academy in Tacen. They performed different exercises such as checking passenger and cargo vehicles, bus coaches, ships, as well as different buildings and terrains.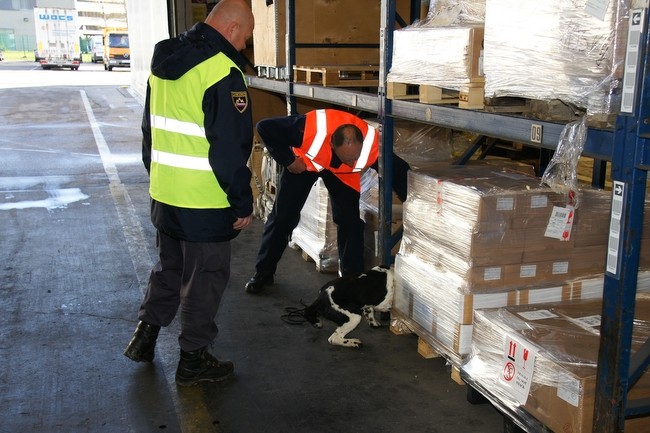 As Zekri Bajrami, service dog handler since 2006, pointed out, the training and use of service dogs in Kosovo are quite differently regulated than in our country. "We do not have a specially organised "dog school" of our own, similar to your Service Dogs Training Section, but the handlers train their dogs as best as they can when they have time and have no assignments in the field." he said. There is also a lack of adequate accommodation, which is why the handlers take service dogs home to look after them.
The difference between Slovenia and Kosovo police forces in the area of using service animals is quite considerable. Namely, in Kosovo, only the police have service dogs whereas the customs and army do not, which means that police officers have an extremely large workload as with their service dogs they must also perform those tasks that could be otherwise accomplished by those two services. As a case in point, when it is necessary to search a facility or luggage at the airport or a vehicle at the state border, they have to drive from their unit stationed near Priština to the location, which may be as far as several hundred kilometres away.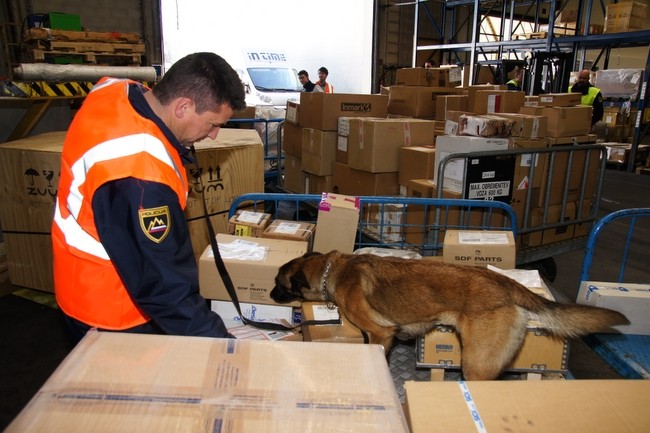 In Kosovo they also have less service dog handlers than we do - only 28, and currently only 26 service dogs (8 so-called patrol dogs for general use, 8 for detecting explosives and 10 for detecting illegal drugs). In Slovenia, we have approximately 130 dog handlers and service dogs. One of the largest problems they face in Kosovo is, similarly to many other police forces, the lack of good dogs for professional service. While for quite a number of years Slovenia has been using, beside Belgian and German sheepdogs and Rottweilers, also various breeds of hunting dogs (exclusively for special tasks), one may find only German and Belgian sheepdogs and Springer Spaniels among the Kosovo four-legged officers. Furthermore, Bajrami pointed out that one of major advantages of the Slovenian police is the use of a muzzle on the dogs for general use, which, is used by only a few other police forces in the world.
The three-month course was managed by instructor Marijan Levstik with his assistant Primož Glavič. After three months of hard work, Kosovo police officers performed a knowledge test, which was also attended by the Kosovo Police Deputy Head of the Service Dogs Unit Minush Krasniqi. After successfully passing the test, Krasniqi expressed his enthusiasm over the knowledge gathered by his colleagues and also his hope for further cooperation.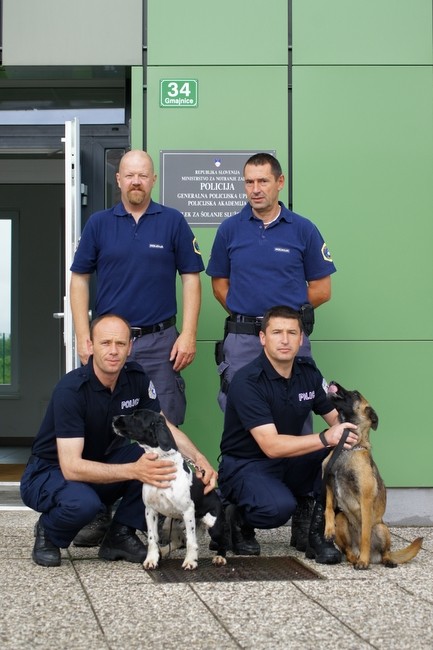 Training of Kosovo police officers was managed by Marijan Levstik (right at the back) and Primož Glavič (left at the back).

Bajrami and Muslliu were impressed by over 60-year history of training service dogs in the Slovenian Police, as well as by the Slovenian handlers and instructors. As they put it, they were pleasantly surprised at their broad knowledge of police canine science and, above all, at the extreme efficiency of their methods. After the end of the course they thanked the entire staff of the Service Dogs Training Section for their hospitality, kindness and patience, as despite the language barriers they had been able to receive lots of knowledge and rich experience from them.
The Service Dogs Training Section management welcomed the willingness of both trainees to gather additional knowledge. According to Head of the Section Marko Medvešek, both officers had been very active during the training. "Already on their arrival at the unit we could see their curiosity and desire to learn. They asked a lot of questions and no task was too difficult for them. Satisfaction with successfully completing the course is mutual, as all police forces of the world, regardless of the borders, share the same mission. To perform this mission as efficiently as possible, international cooperation is of key significance. There is never enough knowledge in the field of preventing, detecting and countering crime so it is a great pleasure for us to share it with colleagues from other countries, always learning something new at the same time." added Medvešek.
The good cooperation between the Kosovo and Slovenian police will certainly continue. These days, two new Kosovo service dog handlers have already started a training course at the Service Dogs Training Section, this time for general use.